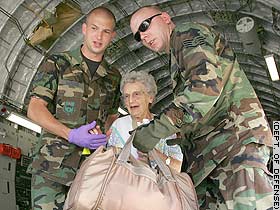 As convoys finally bring relief to New Orleans, one question begs to be answered:

How is it the most sophisticated and wealthiest country that sends disaster relief within hours to countries worldwide, took FOUR whole days to help its own?
Does that make any sense to you?
Because it sure as heck doesn't to this writer!
Categories: blog bloke, news, in the news, current affairs, opinion, rants, ramblings, news and politics, politics, political, hurricane katrina, new orleans
Podcast by @ 7:28 PM: your News Source
Español | Deutsche | Français | Italiano | Português | Chinese | Korean | Japanese
Technorati Watchlist - Favorites - Explore - Other blog comments
Bookmarks